The Kemei KM-609 Hair Trimmer Clipper is a unisex hair trimming device for both men and women. It is available with multiple heads for various types of shaving and trimming that will give you a smooth and perfect hair clipping and hair trimming. The various types of heads will give various trimming and clipping.

Rechargeable battery

Battery stand very handy to charge

Charging time 8hrs running time 60 minutes approx

Detachable settings

Cleaning tool inside the box
1 mm Precision
The sharp hair trimmer is made up with the steel blades that give you an exact precision so that you get a perfectly smooth shave. You can adjust the length of the head in order to adjust the length of the hair you are to trim.
Easy Grip
The Kemei KM-609 Hair Trimmer Clipper is available with a smooth grip to hold it. You can use the trimmer for a longer time without getting any ache in your hand. Holding with the grip, you can move the trimmer smoothly over your face.
Easy to Select and Lock-In Length
There are multiple heads available with this professional hair trimmer. You can select the proper head and can fix the length of the hairs to be trimmed. After selecting the proper head and fixing the length you can lock in the head so that you get a hassle free shave and trimming.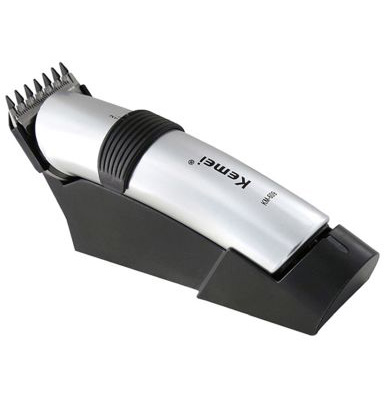 Powerful and Efficient Batteries
Kemei KM-609 Hair Trimmer Clipper is available with the 600 mAh AA rechargeable battery. The time taken to recharge this battery is five hours. You can use this efficient hair trimmer for a longer duration after charging it fully. As it has the rechargeable battery, you do not need to worry about the cord while shaving.

Detachable Head for Easy Cleaning
The Kemei KM-609 Hair Trimmer Clipper comes along with the detachable heads. While you shave or trim your hairs, the small hairs get stuck in your machine. To clean the hair, trimmer you need to remove the head for easy and comfortable cleaning of your device.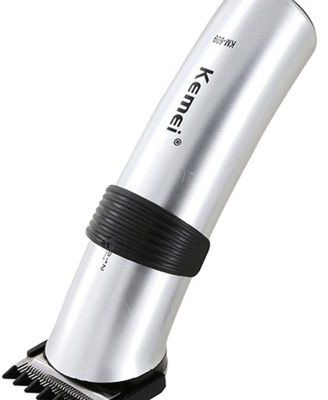 Other Important Features
This Kemei KM-609 Hair Trimmer Clipper is available with the auto overload off functionality. If there are any fluctuations in the voltage, then the trimmer will get auto turned off, to protect it from getting damaged. This stylish hair trimmer is available with the cool outer design. The sleek and small design makes it a very comfortable hair trimmer to use it and also carry it along with you, anywhere you go.
As it is a unisex hair trimmer it is available with various heads, making it suitable for both men and women for hair clipping as well as hair trimming. The stainless steel blades will give a smooth and a proper shave.